On June 28, 2016, the CEO of the New Mexico Restaurant Association Carol Wight published the following statement.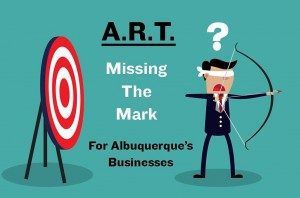 Albuquerque Rapid Transit (ART) project should be a catalyst for a better, more beautiful Central Avenue and a better, more economically vibrant Albuquerque. Instead, it will create a bus dominated, congested street, where citizens will have to re-route in response to the elimination of left turns. It will destroy some already struggling businesses and compromise an important section of the National Scenic Byway. Route 66–an important tourist and visitor draw to New Mexico and Albuquerque—will lose its historic appeal.
The New Mexico Restaurant Association is joining the fight for doing what's right on Historic Route 66. At the request of member restaurants, NMRA has decided to support the Concerned Citizens: MakeARTSmart lawsuit against the Federal Transit Authority and the City of Albuquerque regarding the current plans for the Albuquerque Rapid Transit (ART). There are over 148 restaurants affected by the proposed construction on Central and none of them had a voice in the plans of this massive project.
If ART is built as it is designed, Central Ave will lose 161 left hand turns, ALL of its medians and 217 mature trees, hundreds of parking spaces in business districts like Nob Hill will be lost, sidewalks will be narrowed, and four lanes of buses (two of them dedicated center lanes) will make it difficult for regular traffic to move conveniently and almost impossible for emergency vehicles to safely get where they need to be. If ART is built as designed, Albuquerque will have more diesel buses that connect to nowhere along a route that is already filled with empty buses.
Road construction is notorious for its negative impact on restaurants. When construction happens on a major thoroughfare, sales plummet, employees leave for busier restaurants and customers avoid the area to find different easier-to-get-to restaurants. The business community also fears that eminent domain will be used by the City to widen the streets.
There is no question that construction on Central Ave. will negatively impact restaurants along the route in the short-term. But of even greater concern is the negative impact the badly-designed ART will have on businesses along Central Avenue over the long-term. Eliminating left-turns and parking spaces will make it difficult for customers to patronize those businesses along Central. In addition, in areas between Coors and Louisiana where general purpose lanes are replaced by bus-only lanes, traffic capacity will be reduced by 30% to 50%. The increased congestion caused by this decrease in traffic capacity will drive customers elsewhere.
Concerned Citizens: MakeARTSmart is seeking an injunction to stop or delay construction until the City:
1) Conducts a National Environmental Policy Act impact study on the human and business environment of Central Ave.
2) Holds itself accountable for preserving and honoring the 130 historic landmarks along the ART route.
3) Properly seeks and utilizes stakeholder input.
4) Makes changes based on all of the above.
A project this massive with such enormous impact on businesses and people along its route should have been studied properly. The City should have included stakeholders and business owners' input.
ART is NOT Smart – it's downright Bad Rapid Transit.
Is this the best we can do?
At a cost of $10 Million per mile we can do better!
Albuquerque Rapid Transit – NMRA Supports Members on Route 66