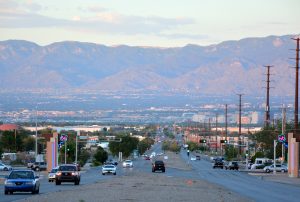 Our Mission:
To preserve the history of Central Avenue, Albuquerque, New Mexico, the longest stretch of the legendary Route 66 that remains today.
Bus Rapid Transit Model
The behemoth of rapid bus systems is the TransMilenio in Bogotá Colombia. It opened in 2000. At that time Bogotá had a population of approximately 6,276,428 people. Today Bogotá has a metro population of approximately 8,854,722. The metro area is approximately 119 square miles. This means that Bogotá has density of approximately 82,582 persons per square mile. As of 2012, TransMilenio had 12 lines totaling 112 km (red articulated buses with dedicated lanes) and 410 alimentadores (green feeder busses, not articulated running in mixed lanes).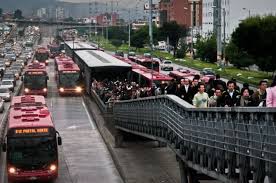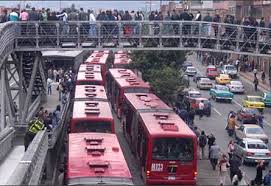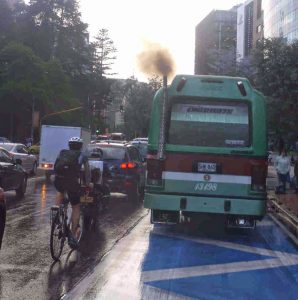 Today ridership on the TransMilenio is 2.2 million daily. Most Bogotans rate the system as good or very good.
BUS RAPID TRANSIT IN THE US
Some cities in the United States have installed bus rapid transit projects. One of the most successful is the Cleveland BRT that runs along Euclid Avenue from Public Square in downtown Cleveland through four neighborhoods (Downtown, Midtown, Fairfax, University Circle) to the suburb of East Cleveland.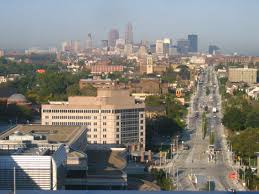 Cleveland BRT has been renamed the Healthline. The Cleveland Clinic, one of the country's premier health systems, was active in promoting the HealthLine's development, describing the project as "great for the heart of the city." The Clinic now sponsors the line, which connects it with downtown Cleveland. The Cleveland Clinic is one of the top five hospitals in the United States. Look at its website A lot of new development in Cleveland was on the Clinic's campus. Look at the main campus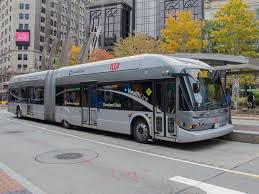 Cleveland has a population density of 5,107 persons per square mile. There are other major differences between Cleveland and Albuquerque.
View Cleveland - Albuquerque Comparison
Current Situation:
Albuquerque has an interesting, multi-layered history. Central Avenue is the corridor between Tramway and Nine Mile Hill that runs through Albuquerque's unique neighborhoods – Old Town, Downtown, Martineztown, EDO, Huning Highlands, Silver Hill, University, Nob Hill, and Highland. Along Central Avenue lie some of the most recognized landmarks of our city – Monte Vista Fire Station, Jones Motor Company, Nob Hill Shopping Center, De Anza Motor Lodge, La Glorieta Spanish hacienda, Old Town, KiMo Theater, Sunshine Building, First National Bank Building, Robinson Park, Tingley Beach, El Vado Motor Lodge, Hodgin Hall, Popejoy Hall, Lobo Theater, Highland Theater. At this time, all of these treasures are accessible by car. We would like to see that human and automobile access on Central is preserved.